HREVO focus area of activities
Human Right and non-violence
Defense from fundamental rights and liberties of the citizens as freedom of speech, invasion immunity, illegal arrest, arbitrary detention, equality before the law, access to justice and due process, implement transitional justice process, equal rights to access education, right of freedom to elect domicile, occupation, and spouse, struggle and prevent all forms of racial, gender and religious discrimination and eradicate any kinds of physical and mental violence against vulnerable groups like women, children, disabilities through amendment and drafting of laws, create protecting mechanisms, advocacy, awareness-raising, research, education, and capacity building for those who are at risk and victim of human rights violations with the cooperation of national and international organization in all over the country first and foremost in underserved areas. 
HREVO focus area of activities
HREVO is committed to bringing peace and stability in Afghanistan and as the country has struggled with war and conflict as the worst form of violence with regard and respect to the rule of civil society, women, and the new generation through the strengthening civil society, conducting peace building, and conflict  resolution  programs.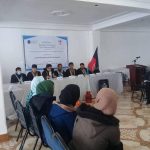 Democracy and Good Governance
Strengthening of democracy and good governance are the main focus areas of the HREVO and the organization believes that only through democratic process Afghanistan will survive form war HREVO is strongly interested to take part in the stabilization of democracy and good governance in Afghanistan for this purpose HREVO committed to increasing awareness of afghan citizen on democratic values, strengthening of rule of law, capacity building of government, strengthening of mechanism to monitor government and increasing government transparency and accountability. 
HREVO focus area of activities
HREVO perceives youth (female and male) as the real asset of Afghanistan who will shape the future. Aware and concerned Afghan youth will bring change in the whole environment and will pave way for a peaceful and prosperous society. HREVO has the strategy of involving youth in all of the activities for bringing them into the mainstream.
Get Right Decision for Right Time
Let's Re-build Afghanistan,